A forgetable response to an unforgettable day...
We at the Obama Factor understand why Barack Obama did not release a press statement this today. Most likely he does not deem the events as they unfolded in Iraq today to be of consequence. In fact most likely he was following the lead of the failed Presidential candidate John Kerry in believing and telling folks that more or less the world doesn't care about this election and that the U.S. "should be careful" not to "overhype" the overwhelming results in Iraq (early estimates put the outcome at near 10,000,000 ballots cast and 72% turnout).
But what DID Obama use this historic weekend to do...?
Believe it or not -
THIS is how lame
things get for these anti-American, anti-freedom, anti-war types.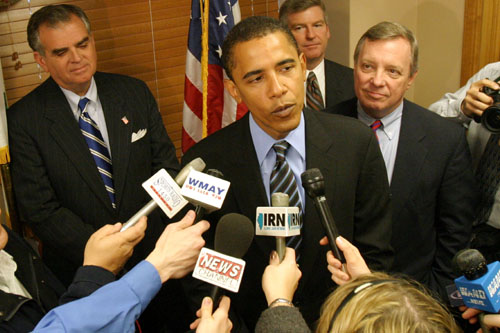 That's right...
reduced to discussing
- the "availability of fake airline pilot uniforms".
Hmm let's see Bush's idea of fighting terrorism: 'Dethrone terrorist regimes. Kill known terrorists. Plant democracies throughout the region so that citizens grow up in freedom and not oppression."
Obama's idea of fighting terror: "Hold lame press conference with Dick Durbin. Hope that nobody notices that you don't acknowledge the single most important day in the middle east in YEARS!"
Gee - I wonder who history will say was more effective in winning the war on terror...?